Skat is Germany's No.1 card game. This popular card game can train your brain to think strategically. The card game Skat is played with 32 cards from ace to seven. You need three players for each Skat game and everyone gets 10 cards. The main objective is to get as many points as possible. Skat is not easy to learn and requires a lot of patience.
VIP Games is a multiplayer platform that merges social and gaming aspects together. You can connect and play with players from all over the world completely free. The social features of VIP Games provide players the ability to fully customize their profile, choose from different decks and table backgrounds, as well as create their own unique memories!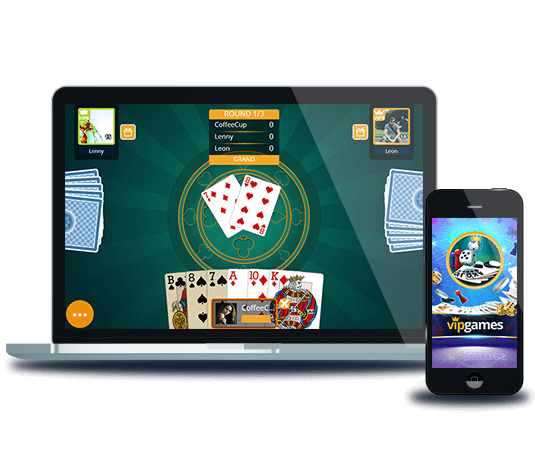 Train
Practice at your own pace and get better at Skat.
Play
Play Skat with people from all over the world.
Chat
Participate in interesting discussions and topics.
Card Game
Skat
Skat was invented around 1820 in Altenburg (Thuringia). The popular card game is not just an extremely sociable, but above all one in which brains, concentration, and strategy are in demand.
Play Skat 24/7 online for free here on our gaming platform VIP Games!
Skat is a card game for three people. The declarer and the counterparty. Each player receives 10 cards at the beginning of the game. The highest cards are the Jacks, followed by Ace, 10, K, Q, 9, 8 and 7.
Two cards are concealed as the "skat". A declarer plays against the other two players. The auction determines who the declarer is.
He or she may take the two cards in the skat and thereby improve their hand. But he or she has to "push" two cards again. The declarer announces the trump. Another possibility is to announce "Grand", in which case only the jacks trump.
If a player can no longer serve a suit, he may discard or "sting" a card of his choice, thus securing the trick with a trump card. There are 120 points. The winner is whoever gets to 61 points first. There are still some special rules, like the "zero" game. You are not allowed to do any sting.
Skat is not a classic game of chance, but actually a game of skill. Therefore, it is even more important to gain experience and practice.
The cards have the following score:
Ace – 11
Ten – 10
King – 4
Queen – 3
Jack – 2
Nine – 0
Eight – 0
Seven – 0