Here at VIP Games, you can play Mau-Mau online for free. There are so many opportunities to choose from. Check out the gaming-rules, try a practice-game, play custom games with your friends, and take part in multiplayer tournaments.
Our main goal is to let players participate in an unforgettable experience and to connect them to other players, newbies and pros equally. Interaction is the key to our social-gaming platform and there are numerous ways to practice.
When you sign up for a VIP-membership, you'll instantly get access to additional features and options.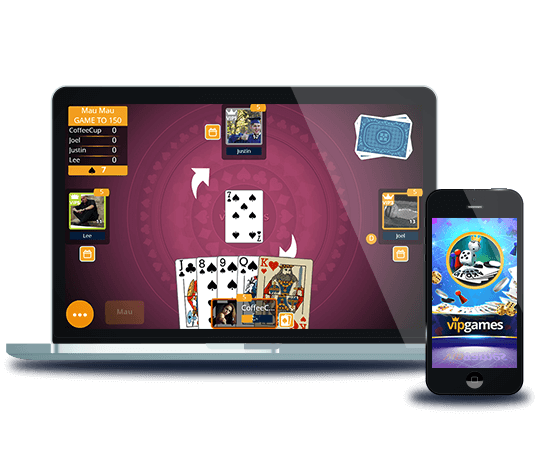 Train
Try different tactics to win against our AI.
Play
Become a Mau-Mau-master and play against other players for the top.
Chat
Talk about interesting facts and exchange some views on the games.
Mau Mau

card game

Mau-Mau is a card-game for 2 up to 5 players, which is most famous in Germany, Austria, South Tirol, Brazil, Poland, Czech-Republic, the Netherlands, and the United States of America. It's very popular with teenagers because the rules are really easy to learn.

You can play 24/7 Mau-Mau online at our multiplayer-platform VIP Games for free.
The main objective of the game is to get rid of all the cards you hold in your hand. By placing down your cards, containing either the number or the colour of the card played before, you can reach this goal.
At the beginning of the game each player gets five cards. All the cards left are stacked faced-down at the middle of the table, except one. It is the first card faced-up to start the game.
Clock-wisely, the players try to put down their cards either by having a matched colour or number card. If a player hasn't got a matching card, he/she must pick up a card from the stock.
To win the game, the player must announce to the others that he will put down his last card by saying "Mau". If he ignores this rule, he/she must pick up two extra cards from the stack as a penalty.
Some cards have special powers, but they are easy to learn:
Jack – The player is now allowed to set up a new colour for the following card.
8 – It's the next player's turn.
9 – Changes the order of playing (clockwise to anti-clockwise or the other way around).
7 – The next player must draw 2 cards. If he answers with a 7, he no longer has to draw 2 cards. Instead, the player next to him must now draw 4 cards. This continues until the players run out of 7.