One of the most popular card games for young and old, and very easy to learn, is 66 (sixty-six). The card game is exciting and made especially for 2 people. In Germany, the game Sixty-Six (66) is as well known as Sechsundsechzig.
The game is called 66, because the objective of every single game is to be the first to score 66 points in tricks.
You can also play the card game 66 online on the Internet. On our multiplayer platform you can play 66 with thousands of players worldwide, completely for free.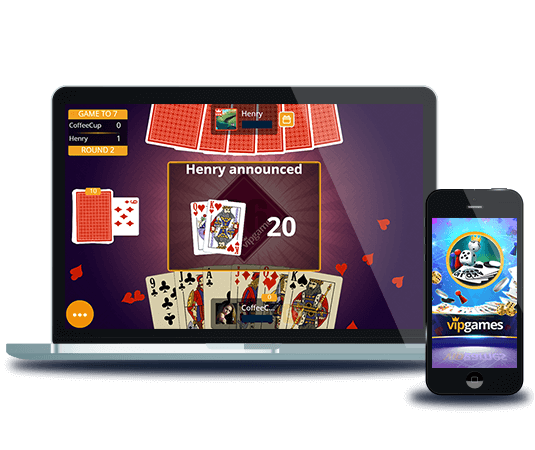 66

card game

In 1652 was created the card game 66 in the house "Am Eckkamp 66" in Paderborn, Germany. Over the centuries, the card game has 66 over the whole world common. However, the name is more likely to be derived from the goal of the game. The objective of this card game is to get 66 eyes as fast as possible, which can be achieved by stinging and by reporting.
The game 66 is usually played in pairs but there are also variants for three and four players.
You need a deck with 24 cards. The nine is the lowest card in the game.
Each player receives six cards. The remaining cards are placed face down on the table. After giving the first three cards, the next one is placed face up on the table. This card determines the trump suit. The first stitch is forehand. To the other one plays out, who made the last trick. After each trick, each player picks up a hand from the face down, undistributed cards, the first to make the last trick!
If you have a pair (king and queen in one color), you can report 20 when playing. If the color trumps, he reports 40. To win a game includes 66 points, which can be reached by stitches and messages.
Points in the card game Sixty-Six
From this card game you sort out all 7s and 8s. The ranks and values of the cards are as follows:
Ace – 11 points
Ten – 10 points
King – 4 points
Queen – 3 points
Jack – 2 points
9 – 0 points
Winning a round gives you:
3 points if the opponent has 0 tricks won
2 points if the opponent's score is below 33
1 point if the opponent's score is 33 or more
Еnjoy the 66 games on our platform VIP Games.