Buraco (Open Buraco / Buraco Aberto) is one of the most common variants of the Buraco card games. The game originates from South America and is very famous in Brazil. The rules are similar to the Italian Burraco but with some notable differences.
There are many types of Buraco – Aberto, Aberto sujo, Fechado, Fechado STBL, Fechado sujo.
We will first explain the Buraco Aberto (Open Buraco) rules and then the differences between the other types.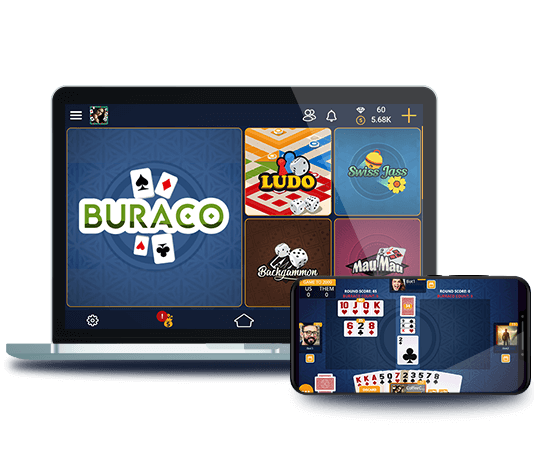 Brazilian Burraco

Rules

The game uses 2 French decks – 104 cards in total. The objective is to create melds by forming combinations of cards. Only sequences with the same suit are allowed.
Players and cards
Buraco is often played by two teams consisting of 2 players each.
There are no Jokers, only the Twos can be used as wildcards when creating a sequence. It is allowed to form a 14-card sequence with Aces at both ends.
Values of the cards are almost the same as in the Italian Burraco. The only exception is that the 2s are 10 points each.
Dealing is clockwise and all players receive 11 cards. Two 11-card morto piles are put on the table – one for each team. The rest of the cards form the Stock pile. The hand begins with an empty discard pile.
Players take turns in counter-clockwise rotation. Each player tries to create combinations and melds. Teams have their own area to meld and lay off cards.
Three cards or more form a combination. Players can use only one wildcard per combination. Buraco (canastra) is called seven or more cards in a sequence. A combination with no wildcards is called 'clean', and a combination with a wildcard is known as 'dirty'. Therefore Buraco can be clean or dirty.
Each player's turn starts with taking a single card from the Stock or taking all cards from the discarded pile. Next, they are allowed to meld or extend combinations. In the end, they must discard one card. The rules for discarding are as follows:
If only one card is taken from the discard pile, the players are not allowed to discard the same card at the end of their turn. If more than one card is taken, players can discard any of those cards.
Players can discard a wildcard if they are not going out (closing the hand). If they are closing, discarding a wildcard is forbidden.
In the beginning of the hand, there are 2 morto piles. If a team has not taken their morto, one of the members must take it when he/she has no cards left of their initial hand. After that, if a player melded or laid off their last card, the turn continues. If a player discarded the final card, the turn ends.
Special condition: When there are no more cards in the Stock and there is an unused morto pile, the morto pile becomes the Stock from which players can draw. If there are no more morto piles, then the hand ends.
The hand ends only when a player goes out, or when the stock pile is exhausted.
Going out (also known as closing) is an action that a player can perform when all of the following conditions are met:
A player's team has taken their morto
A player's team has formed at least one clean canastra (Buraco) in its melding area
A player can meld, lay off or discard the final card.
If there are no more cards in the Stock and no more morto piles, the hand ends.
The points are calculated the same way as Italian Burraco. There are two additions:
Royal canastra (natural 13-card sequence): 500 points
Ace-to-Ace canastra (natural 14-card sequence): 1000 points
In VIP Games special room "Play with friends" you can choose other Buraco game modes: Aberto sujo, Fechado, Fechado STBL, Fechado sujo.
Below are the main differences:
| Variant | Discard pile | Sets allowed | Close only with clean canastra | Ace-to-Ace Sequence | Must discard when closing | Jokers |
| --- | --- | --- | --- | --- | --- | --- |
| Aberto | Open | No | Yes | Yes | No | No |
| Aberto sujo | Open | Yes | No | No | Yes | Yes |
| Fechado | Closed | Yes | Yes | Yes | No | Yes |
| Fechado STBL | Closed | No | Yes | Yes | No | Yes |
| Fechado sujo | Closed | Yes | No | Yes | No | Yes |
For all "Aberto" variants, all cards in the discard pile are visible. For all "Fechado" variants only the top card in the pile (the one placed last) is visible. It is mandatory to play immediately the top card from the discard pile.
Sets are not allowed in Aberto and Fechado STBL variants.
In Aberto sujo and Fechado sujo players are allowed to go out with dirty canastra (including wildcards).
When allowed, Ace-to-Ace sequence brings 1000 points.
In Aberto sujo mode it is mandatory for players to discard their final card in order to go out. In other modes they can either meld, lay off or discard it.
Jokers are 30 points in Aberto sujo and 20 points in all other modes.