VIP Games Clubs Championship
Home » VIP Games Clubs Championship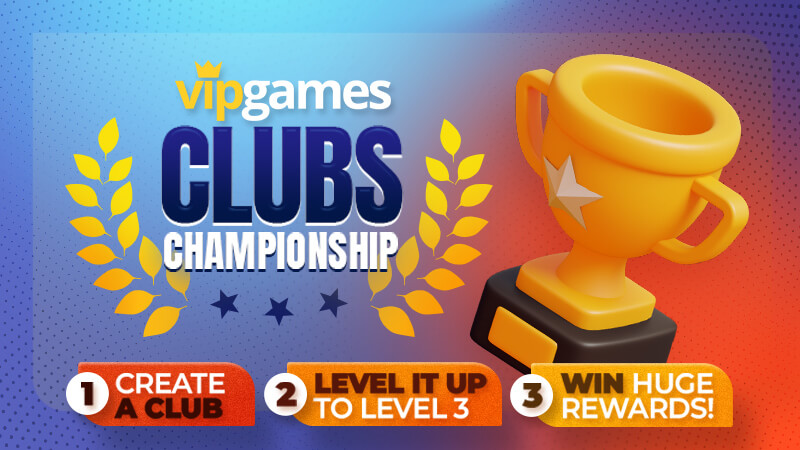 Gather your fellow players, form a club, and participate in the thrilling VIP Games Clubs Championship. This competition promises exciting rewards for the first clubs that successfully level up to level 3. Are you ready to take on the challenge?
Let's dive into the rules and guidelines!
How to compete in the Clubs Championship
The VIP Games Clubs Championship is available to any club currently in existence, or any new club you make. To compete in the Clubs Championship, do the following.
To begin your journey, create a new club or join an existing one. The objective is to to reach level 3. To achieve this, make sure to:
Create or join a club of your choice.
Invite members to join your club and form a strong team.
Engage in games and strive to emerge victorious to earn valuable points for your club. The more victories you score, the more you will raise your club level. Each member contributes to their club's level.
Once your club reaches Level 3, send us a message at

[email protected]

to confirm your accomplishment.
The first 3 clubs to reach Level 3 will get a reward.
Members of the other 7 clubs will also get a bonus.
To elevate the club's level, all members should accumulate a total of 7500 club experience points. You can check the club experience points in your club profile. Each member's participation in games contributes to the growth of the club experience. Winning a game in a room with a higher entry fee yields more points for the club experience and advances the club's level.
Time is of the essence, so log in and win as many games as you can. Each victory brings you closer to leveling up. For more information, read our blog post on VIP Games Clubs.
Rewards
The rewards for the top 10 clubs that reach level 3 are as follows:
First Club: Each member will receive 5 000 chips, 100 gems, and a custom gold frame.
Second Club: Each member will receive 3 500 chips and 50 gems.
Third Club: Each member will receive 2 000 chips and 25 gems.
4th to 10th Club Each member will receive 1 000 chips.
The VIP Games Clubs Championship invites you to embark on an exhilarating journey with your fellow players. By creating or joining a club, inviting members, winning games, and leveling up your club, you stand a chance to win exciting rewards.
♦ ♦ ♦ ️️ ♥ ♥ ♦ ️️ ♥ ♦ ♦ ♦ ♣ ♥ ♦ ♦ ♦ ♦ ♦ ♦ ♦ ♦ ♦ ♣ ️️ ♦ ♦ ♦ ♦ ♣ ♣ ♣
If you have any questions, please do not hesitate to contact us at
[email protected]
. We'd love to hear your feedback!
Thank you for being part of the VIP Games community!
Subscribe now
Receive updates and latest news about VIP Games. Simply enter your email below and get notified!
You will only receive quality content.
Signing up for newsletters indicates you agree with our Privacy Policy. If you decide that you no longer want to receive a newsletter, you can unsubscribe by clicking the "Unsubscribe" link, located at the bottom of each newsletter.